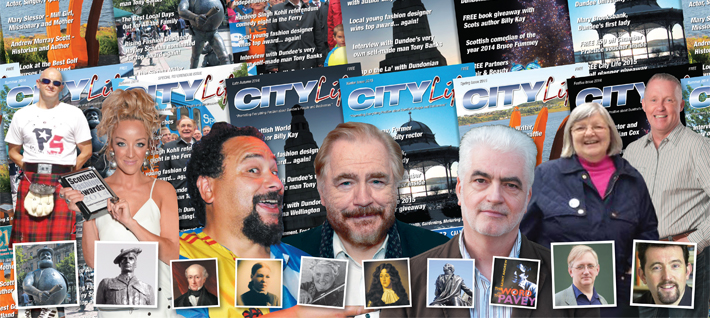 Here at City Life, we can't believe it has been a year since we boldly launched this wee Dundee magazine and one year on, we are astounded at the positive response we have had from the readers, the advertisers and the interviewees that have supported us. You are all amazing, thank you so much for your encouragement, this magazine has come to life because of you!
In summer 2014 we launched into possibly one of the most momentous and defining periods in Dundee's history and we were fortunate enough to capture some of that colourful history here in the pages of City Life – what a privilege! We have met some wonderful Dundee characters and we will continue to champion Dundonian voices that inspire and challenge us all. One thing we have learned in the last year is that Dundee truly is a special place and the Dundonian people are more fascinating and inspiring than we already believed. One of Dundee's favourite sons, Brian Cox, enlightened us in our Festive 2014 issue…
"We live in a city that people have tried to write off time and time again, it's the survival mechanism, we are great survivors, we have learned how to survive, it's that thing that makes us who we are… spirit of survival!"
Then more recently, in our Spring 2015 issue, the inspirational Gary Robertson looked to Dundee's future…
"Ken what, eh think nationally Dundee is the biggest hidden gem in the country, eventually one day the whole world will ken whaur Dundee is on the map…"
So journey with us into Dundee's future and together we will keep our 'spirit of survival' alive!
As a special thank you to all our readers and advertisers we have lots of stories, offers and free birthday giveaways in this special issue. Like and share our new Facebook page or check out some of our special articles for your chance to win a birthday gift.
Journey with us to the 'Kingdom of Dalriada' in our Travel Scotland feature. Meet one of Auld Dundee's most famous sons, George Wishart. Join us at Dundee's Verdant Works with novelist Sandra Savage. Meet the inspirational Rob MacKillop, brought up in the old Hackie and whose life would be defined by an ancient art. Also, travel with us to Scotland's famous Fringe Festival with comedian Bruce Fummey and some other funny people.
Look out for Ricky Ross and Donovan in the Gardyne Theatre autumn program. Check out Dundee's first Celtic rock festival, Celt Fest. Keep an eye out for Freedom Fitness, an exciting fitness studio opening soon, and their free class offer. Whytes of Monifieth £500 off bathroom offer and the Chamber Practice £595 estate agency offer are still on too.
Look out for the Beat the Banks Uncle Sam campaign, one lucky Dundonian has already reclaimed £145,000!!! Also five Broughty Ferry traders are offering some great deals – Partners Hair and Beauty are giving away a £50 beauty gift set, Katz Pyjamas are offering a £5.00 off voucher, ES Hairdressing are offering a free dry trim worth £12, Bombay Joe's Indian Restaurant are doing a £10.95 three-course high tea, and Derek at Orchar Flooring is still offering his great value carpet service and free estimates from his King Street store.