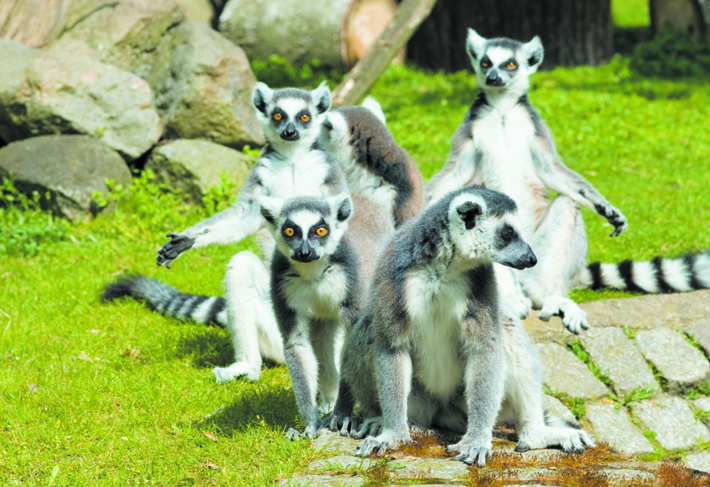 Dundee has to be one of the most family friendly destinations in Scotland. There's always something to enjoy doing with the kids, whatever the weather. Here's a few of our favourites…
Camperdown Country Park
Get the kids away from their screens and into the exciting outdoors at Camperdown Country Park, just three miles from the city centre. With 400 acres there is more than enough room to stretch your legs. The stunning neo-classical Camperdown House is full of treasures, as is their annual calendar of events which includes gems like the wonderful Dundee Flower and Food Festival which is held every year during the first weekend in September.
Camperdown Wildlife Centre is on the same site. It is a fantastic venue where you can see and learn about all sorts of animals including bears, otters, owls, wallabies and lemurs (main picture above).
Call 01382 431811 for directions and opening hours. There is also an outstanding adventure playground and a new café on site.
River Tay & Broughty Ferry
Walk or cycle beside the River Tay or, if you're feeling especially adventurous, sail it. As well as being the longest river in Scotland, the Tay is home to bottlenose dolphins, which are often seen around Broughty Ferry on summer evenings. While you're in Broughty Ferry you can admire the remains of the magnificent castle at the mouth of the river, before heading to the award-winning beach for some sandcastle building and a well deserved picnic.
Discovery Point
Discovery Point is the place many locals recommend for visitors, but have you been there recently? Far from being a stuffy museum, it's a fun and educational attraction with lots of opportunity for some hands-on interaction. Discovery Point is a top choice for a rainy day. It is at Discovery Quay, DD1 4XA. Call 01382 309060 for details.
Dundee Science Festival
The first half of November sees the Dundee Science Festival take over the city with talks, exhibitions, free fun family events, and brewing masterclasses. Although you don't have to wait for November to get your science kicks, because the Dundee Science Centre is open all year round. With live science shows, interactive displays, and an exciting schedule of events, it's an enjoyable way for everyone to learn something new.
The Law
There's no better place in Dundee to let the kids put their youthful energy to work than the Law. While it is possible to drive to the war memorial, the extensive panoramic views from the top are made even more satisfying for having worked for them. There are several walking routes to the top, but they are not wheelchair or buggy friendly.