While sitting in our Stobswell office, early one summer morning, we stumbled across a wee tune on YouTube called 'Adew Dundee'. How interesting, we thought. Within seconds, the haunting sound of something familiar sent ghost like shivers down our collective spines!
What was this tune and who was the mysterious musician playing the exquisite looking instrument on the video? Whoever it was and wherever he was from, we knew we had to do a story on this captivatingly beautiful tune and its soloist performer. So imagine our surprise and delight when we found out that the virtuoso, who brought this 1627 Scottish tune to life, was Dundonian Rob MacKillop, born and bred on the Hackie!
Road and the Miles to… Edinburgh?
There was nae 'cauld winter howlin' o'er moor and o'er mountain' on the rare sunny summer day that we bid adew to Dundee and set off for Edinburgh to meet Scotland's foremost lute player and musical historian, Rob MacKillop, at his new family home in Edinburgh, where he teaches guitar, ukulele and banjo for a living. It was evident that Rob, a former Lochee Parks Department gardener, really missed Dundee and was happy to spend time with a fellow Dundonian,
"The area I know best is the West End… my favourite place is the auld Hackie, that's where it started"
"I used to love watching Saint Andrew and the Woolen Mill every week down at Laings"
Punk Rock to the Sound of the 1600s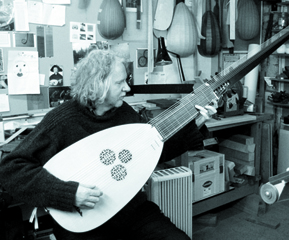 Being brought up in a in a family of twelve and living in a wee flat on the Hawkhill is a fond memory for Rob, especially the family get-the-githers and sing-aroonds,
"My dad was a saxophonist and accordion player and so I grew up with a weird mix of jazz and traditional music"
At the age of fourteen, Rob bought his first guitar for twelve pounds, using savings he had earned on his Lochee paper round. At the age of seventeen he was invited by his sister's boyfriend, Gus Mcfarlane, into, what some people have called, Dundee's first punk band – 'The Drive'.
"We recorded a song called 'Jerkin' and I played the slide guitar, apparently it's now on YouTube."
At 28, Rob really started getting into the guitar and secured a place at the Royal Scottish Academy of Music and Drama. He then won a scholarship to study classical guitar in Venice, Italy. Venetian fate took a twist when he accidentally cut off the tip of his playing finger. Experts advised him he would never play again, so, during his recovery, he decided to study the musical history of Scottish guittar, Scottish lute and traditional tunes.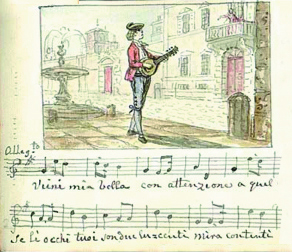 "The old notation was like hieroglyphics and then suddenly here I was, the first person translating this stuff into sound. It was beautiful! Most manuscripts from the 1600s contained real gems like the original version of Auld Lang Syne and then I came across Adew Dundee."
Thankfully the doctors were wrong! The feeling eventually came back into Rob's finger and he really started bringing these old traditional tunes back to life, through the sound of the lute.
"I ended up doing eight CDs and touring the world, I would'na have done all that if I had'nae cut my finger!"
A Life's Passion
Rob found it hard to get support and funding to bring these old musical compositions to life. They were just sitting there waiting to be translated into melodious sounds yet the authorities and musical establishment were seemingly oblivious to the importance of this one man's passion.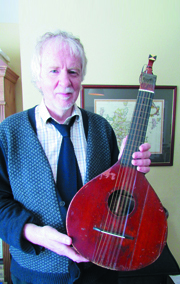 "The establishment in music see Scotland as this oddity on the side, they want the lute to be an aristocratic instrument but it isn't in Scotland… Most of the music I'm finding is folk based, we're hearing the people's music coming through here… It's deeply emotional music of its day, so it's important to bring these old scores and manuscripts to life in their uniquely Scottish sound."
"It's in the lute manuscripts that we encounter this traditional music for the first time, before the fiddle, before the bagpipe, it's a national treasure it really is."
During this journey he would also come across the importance of guittar music in Scotland and has even traced Scottish guittar music back to the thirteenth-century. Rob showed City Life an old guittar from the Robert Burns era and talked passionately of Burns' favourite composer James Oswald from Crail in Fife,
"James Oswald was the Burns of Scottish music, one of Scotland's most important composers. I have recorded his 'Twelve Divertimentis' for the guitar, it baffles me that there has never been a film about Oswald or Burns."
Legacy
"My lofty ambition is to record the whole Scottish repertoire for future generations… it's forever!"
"What I'm really looking for is a patron, someone to fund my research into these manuscripts."
It gives us extra fire, here at City Life, to communicate this musical passion, as the historical sound of our own Scottish culture deserves to be brought to life and preserved for future generations. Rob now records and shares his musical translations via YouTube and SoundCloud, so that they may be enjoyed and preserved for us all. He has also produced a vast array of books and CDs.
Maybe, just over the horizon in a new Scotland, your work will eventually be fully recognised. Until then your fellow Dundonians salute you as the true Scottish musical master and guardian that you are. Thank you, Rob, you are our national treasure!
For more information please visit:

WIN A LUTE MUSIC CD

To celebrate our 1st birthday we are giving away a copy of Rob MacKillop's CD 'The Healing'. For a chance to win, like and share our Facebook page quoting 'Lute' or email us and tell us what you like about City Life Dundee.