"Eh thought eh'd like to write a play so that's what eh done"
Saturday 2nd May 2015, the warm evening air in the Dundee Rep theatre was electric. Dundonians from all over the world were back in their homeland. The finale night of 'The Scaffies' was on and these Dundonian hordes were not going to miss it for the world! The Rep bar was buzzing with Dundee royalty. Breeks from Groucho's was seen and Billy Kay the Scots writer and broadcaster was spotted. Eh's and ken's, nae bathers and guid tae see you'se, were bouncing off the walls. Hugs, kisses and reunions were going on all over the place. This was clearly a special night, was there a star in town? People excitedly took their seats. Time was about to stand still and Gary Robertson and his team of Scaffies were about to take us all back to the late 1970s when times were wild and life for a Dundee bin collector was even wilder. Was it going to be funny? Was it going to be oary? Was there going to be a wee bit of swearing? Was a translator required? Absolutely!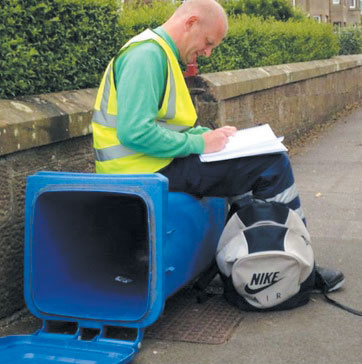 Gary, a real life council bin collector, who not only wrote 'The Scaffies' but also played the main character Tam, had the crowds laughing straight from the off. Characters from past and present were brought to life. A real life local scaffie, Stan, was the inspiration behind Gary's 'boom! boom!' gags. Minute after minute the laughs and banter flowed. There were guys at the front nearly rolling onto the stage in hysterics and women at the back wiping away the tears, as well as the years. Music and pictures from the 1970s added to this riot of laughter and, for a moment, everyone really was back in the 70s when 'We're On the March with Ally's Army' played into an interval. It was a wonder to watch a team of multi-talented Dundonians craft out such an amazing piece of Dundee culture for all to remember.
"Eh dinna see masel as a writer, people are like, yer a play writer and a novelist… nah eh'm a scaffie!"
The celebratory standing ovation they all received was truly well deserved. The crowd were rewarded with a wee finale speech from Gary, who emphasised that the show really was a team effort and dedicated the show to…
"The guys we lost in the past, that's for them." At the after show gathering Gary shared his mood with City Life…
"Eh luv spreading the culture and the humour o' this city and that's what eh'll keep on daein…"
"Ken what, eh think nationally Dundee is the biggest hidden gem in the country, eventually one day the whole world will ken whaur Dundee is on the map…"
Gary and his team of Scaffies definitely put Dundee on the map this night. It was a real celebration of the Dundonian dialect – well done lads! Watching Gary that night really got you thinking, who is this humble bin collector who sells out shows at the famous Dundee Rep months in advance? Who is this council estate 'Fintry Sham' who writes, casts, directs, organises and acts in his own plays? Who is this soon-to-be young grandad that can keep a full house laughing for hours? As it turns out it's not the first time he has done all this and it's not the only thing he has done! Days later we were lucky to have Gary over to our City Life headquarters in Stobswell…
Who Dares Wins
Brought up in the 1970s on the Fintry council estate, Gary admitted he "would'nae say boo to a goose". We shared what it was like to be free and wild to roam the council estates and countryside without computers and modern tech. His self-confidence grew from his teens into his early 20s with karate, martial arts, boxing, hillwalking, bagpipes and a love of all things Scottish. Then in 2001, aged 33 and working as a machine assembler in the NCR, destiny came knocking. A chance to enter one of television's first reality shows 'SAS: Are You Tough Enough?'. Gary humbly dared "eh'm gonna win this!" to his mum and dad and win it he did. He dared and his life was never the same again…
"It was a defining moment in meh life, ken what, you can dae anything you want in yer life"
Inspiration and self-confidence followed and his passion for writing grew as he quickly set about self-publishing his first book about his gruelling SAS selection experience called '11 Days in a Hell Called Paradise'. Gary laughingly admitted "eh thought eh was going tae mak millions o' pounds!" He never made his millions but he sold out 1,000 copies of this now collector's item! A Dundee writer was born!
Dundee Street Poet
Gary's old fashioned pen and paper writing style was becoming part of his life. Already inspired by the kings of the Dundee dialect, Michael Marra and Andy Pelc, he started getting involved with other poets and writers in a writers' club based in the Hilltown. "Ah seen a poster in the Dundee dialect and eh was like, God, somebody actually writing in oor language". Kevin McCabe and Mark Thomson inspired Gary to embrace oary performance poetry. 'Made in Dundee', 'A Gub Fuhl o Fuhlinz', 'Dundee Fowk', 'Step oot Side', 'Retro Mania', 'Andy Broon' and many more can still be heard on YouTube to this day. Two life changing poems, 'Gangs O Dundee' and 'The Berries', were to start the next stage of his poetic journey.
"Eh was getting paid aboot £14 an hour on the night shift tae write poetry!"
Books and Berries
'Gangs O Dundee' lead to a successful book and 'The Berries' became Gary's first theatre success. Gary's poetic journey also inspired further books; 'Pure Dundee', a collection of Gary's poems; and 'Skeem Life', a journey through the 1970s growing up in the Whitfield and Fintry housing schemes. 'Gangs O Dundee' had the claim to fame as the most stolen book in Dundee's bookshops,
"I was'nae getting any royalties but I was proud o' the Dundee people."
'The Berries' story of four berry pickers from Fintry up the berry dreels in 1974, was showcased successfully at the Bonar Hall in 2009, re run in 2010 and finally in 2013 the Dundee Rep were compelled to open up their theatre to this rising star. Gary's dream was finally realised and was made all the more magical by acting in his own play with his actress wife and even his wee daughter, Eilidh, had a walk on part. Now that's poetry!
"The greatest thing in the world is tae mak people laugh!"
   
The Cundeez
Gary's writing skills are now being channelled in a new direction through his latest song-writing, piping and singing career with 'The Cundeez'. Punk-rock and ska meets bagpipes, kilts and Dundee dialect to create a truly authentic Dundee sound with a real message. A Dundee band forged together by four pals in there forties and fifties proves, as Gary said, "Yer never too auld to dae something you want to dae in yer life."
Gary, Steve, Tez and Trotsky have musically crafted some amazing original songs that they now showcase on various tours and festivals around the country. They have even been to Texas, USA where fans are now keeping up with the Dundee dialect on social media. Songs like 'Homecoming', 'Haggis Man', 'Just a Number', 'Broo Dog', 'Yer Talkin Shite', 'Ehm Aff It', 'Charlie Kean', 'Oary Tull eh Deh' and 'Skeem Life' are just a flavour of what this young band have conjured up from their four albums. 'Keyboard Gangsters' , set in a house in Fintry (we think?), is a must see on YouTube, what a laugh! The City Life favourite though is a spine tingling song about both of Gary's granddads who survived the second world war. 'Coloured Ribbons and Tarnished Brass' is a beautiful wee Dundee song and arrangement – brilliantly done lads!
Gary has already made his incredible mark on Dundee cultural history in such a short space of time and, as he hinted earlier, there is more still to come…
"Eh luv spreading the culture and the humour o' this city and that's what eh'll keep on daein…"
So what does the future hold for this passionate hillwalker who has already climbed every 'Munro' mountain in Scotland?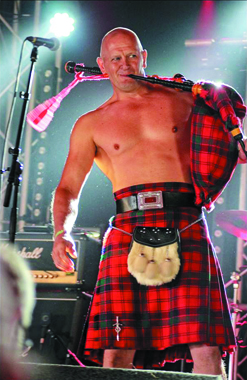 "I'd like to do a film script loosely based on an up and coming band like the Cundeez [and] maybe a play set in the old NCR factory."
Fellow Dundonian and actor Brian Cox, whom we featured in our festive issue, gets a copy of every City Life; so who knows, Gary, maybe Brian will get in on the act with you! Also City Life are looking for a new Dundee writer. Hmm… Now there's an idea…
Gary Roberston: poet, author, playwright, actor, director, singer, song writer, piper… Scaffie!
For more information on Gary and his work check out the following:
YouTube: DundeeStreetPoet
Twitter: dundeepoet
FaceBook: Thecundeez