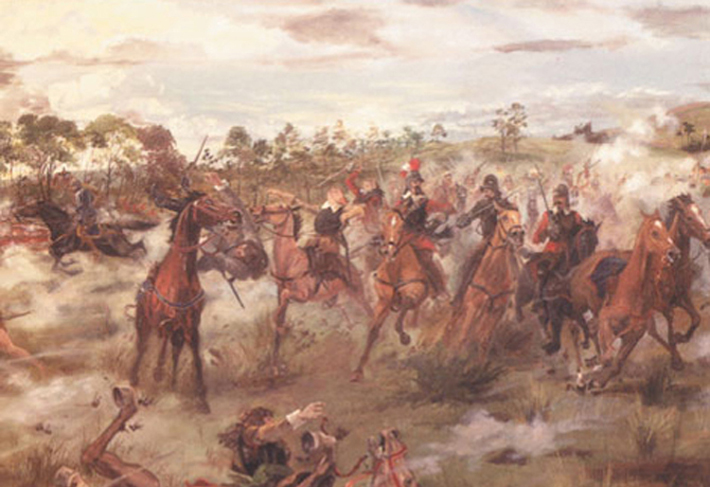 "I have been writing since my teens and always planned to be a writer"
Bonnie Dundee, one of the most compelling and romantic characters of Scottish History, is captured in this wonderful book by Dundee man Andrew Murray Scott.
Bonnie Dundee known as 'Dark John of the Battles' by his troops was captured in legend by his heroic death at the Battle of Killiecrankie in 1689. This extensively researched book takes you on a journey through one of the most evocative times in Scottish History. Death in battle, charging at the head of his troops was to secure the name of John Graham of Claverhouse forever in Scottish history books.
"Behave yourselves, therefore, like true Scotchmen: and let us by this action, redeem the credit of this nation, that is laid low by the treacheries and cowardice of some of our countrymen…" – 27 July 1689

Andrew Murray Scott; novelist, poet and non-fiction book writer; won the inaugural Dundee International Book prize in 2000 with his first novel, 'Tumulus'. A £6000 prize and book deal was the reward for his talent and passion. More novels were to follow – 'Estuary Blue', 'The Big J', 'In A Dead Man's Jacket' and 'The Mushroom Club'.
Andrew has also written many non-fiction books and several books about the history and culture of Dundee including 'Modern Dundee', 'Discovering Dundee' and 'Dundee's Literary Lives'. He is so far perhaps best known for his biographical works in 'The Making of The Monster' and his editorial work on 'Invisible Insurrection: A Trocchi Reader', about the writer Alexander Trocchi (1925–84).
City Life caught up with Andrew…
CLD – So, Andrew, what inspired you to start writing and how did it feel to win the Dundee International Book Prize with your first novel, Tumulus?
AMS – I have been writing since my teens and always planned to be a writer. It was a real slog to get things published in the early days. I wrote Tumulus specifically for the competition. Winning the Dundee Book Prize was a big deal for me and it got me a novel into print. It was a moment of glory that I'll always remember.
CLD – Scottish democratic history is being reshaped around us at the moment, how do you perceive this from a Scottish history writer's perspective?
AMS – I believe that Scotland is on a journey that will reach and go beyond independence. This will require us to re-evaluate our history and produce new history writing that reflects that new national outlook. All of the historiography and literature will in time develop and become hopefully less parochial, less bothered about England, more internationalist and more correlated to Scotland's new status as a world citizen.
CLD – Do you have any new books on the horizon?
AMS – Absolutely! I am working hard on a new novel which will bring to life the long struggle for Scotland's soul that was the Referendum. A novel about the people who sought change, who yearned for it; their hopes and fears and it will, to an extent, be an insider's view of one of the most intense periods in the lives of the protagonists on both sides.
See our 'Jacobite Rising' article for more information about Bonnie Dundee.
Andrew's books are available here.