Dundee Law has overlooked many great events and visitors cannot fail to notice the towering monument to the city's fallen in World War I on the summit, but one of the most significant moments in the city's history took place right there.
Each year a small but determined band of enthusiasts meet on top of the Law to commemorate the incident in April 1689 that triggered the first Jacobite Rebellion. Yes, it's true. The Jacobite period of Scottish history kicked off here in Dundee.
Each year members of several Jacobite re-enactment societies, organised by Kenny Borthwick a former Dundee electrician, dress in period costume and re-stage the march from Dudhope Castle to the top of the Law where the Royal Standard of King James VII and II was first raised on 13th April 1689 by John Graham of Claverhouse. Graham, the son of an Angus Laird, rose to become one of the most prominent politicians and leaders in Scotland of the 17th century and was widely known as 'Bonnie Dundee' because of his dark good looks and his dashing manner and wit.
Back in 1689, when Claverhouse led his small band of troopers from Dudhope Castle to the top of the Law and struck the Royal Stuart Standard there, he put Dundee at the centre of Scottish politics. Dundee has the honour therefore of being the starting place for the Jacobite period that lasted from 1689 to 1746 and 'Bonnie Dundee' was the first, and the most effective Jacobite leader.
A number of suggestions have been raised by historians as to why Bonnie Dundee 'stuck his neck out' on behalf of King James when most of the leading nobles were waiting to see which way the wind was blowing. It has been said that he was 'an unthinking servant of the Stuarts' or a reckless gambler intent on bravado or that he had calculated greater rewards would come if he could restore James.
When you consider all of these potential motives you have to conclude that it was a difficult decision to make but Claverhouse took it – at some risk to his family and himself – and stuck with it, doing his utmost over the final three months of his life to achieve his aims, before his untimely and almost accidental death at Killiecrankie.
His was a fight for a principle in which he believed. At that time nearly everyone in Scotland was potentially a supporter of James. The Stuarts had reigned in Scotland since 1371 and some said for hundreds of years before that. Replacing them by a foreign line was not something done lightly. The Williamites were a small minority and in April 1689 could have been relatively easily overthrown in Scotland. They did not have popular support although they did have an English-Dutch army backed with elements of the Scots' army which Claverhouse had previously led.
But Dundee's prodigious efforts were comprehensively undermined by the deviousness of leading nobles – on both sides – and particularly by James' leading adviser, the Earl of Melfort, who, instead of assisting Dundee, betrayed him, denied him resources and successfully kept that knowledge from the King.
'Bonnie Dundee' is a tragic and glamorous figure and one of the best known and most significant historical figures associated with the city of Dundee and it is appropriate that we commemorate this significant event on Dundee Law and another at Killiecrankie every year.
Recently the group applied unsuccessfully to the Historic Scotland Commemorative Plaques scheme to have a plaque added to the walls of Dudhope Castle. I think there was a plaque there originally, but like a lot of historical plaques in Dundee they seem to have disappeared. We will try again and keep trying to interest our fellow Dundonians – and tourists – in this famous aspect of Dundee's great history.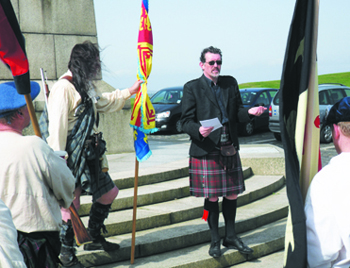 Pictures show some of the participants at previous events on Dundee Law and Killiecrankie. Andrew Murray Scott, a local writer and novelist, attends this event every April and makes a short speech generally trying to add some political and historical context and the 17th century background to the event. So next April 13th have a wee wander along to Dudhope Castle and rally round these fellow Jacobites to the tap o' the law and together in numbers maybe this modern day Jacobite army can finally secure that commemorative plaque for all of us in Dundee.
To find out more about Andrew Murray Scott read our "Bonnie Dundee" feature.