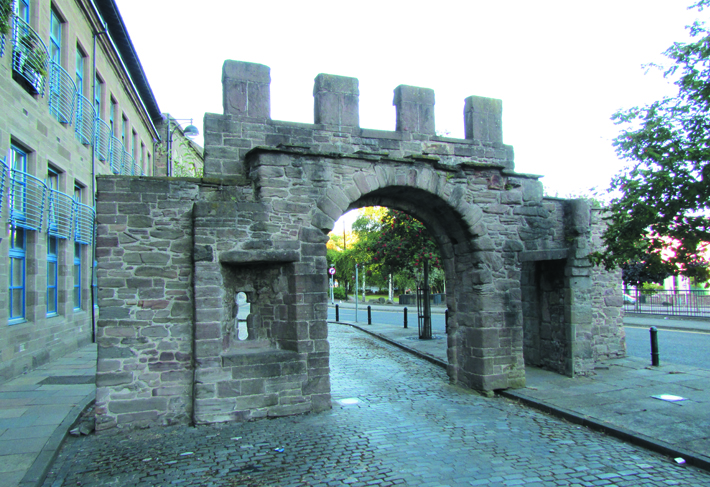 As you walk through the modern precincts and streets of Dundee, it is easy to forget that this city is in fact quite ancient, with a proud, if chequered history. It is easy, that is, until you walk out on Sea Gate and are confronted by an anachronism: the Wishart Arch. The Arch is all that remains of Dundee's protective city wall that was ordered pulled down after the failed rebellion of 1745. It sits surrounded by modern roads and buildings, all but lost in the heart of Dundee, a small reminder that this city has been around very long time.
It was saved, some say, because of an act of great mercy that happened there 201 years earlier. The year was 1544 and Dundee was under quarantine. Plague had struck and none were allowed in or out. But a protestant preacher named George Wishart came to Dundee, climbed up onto the gate and preached to the beleaguered citizens. No copy remains of his message. We have no references to the Biblical texts he may have quoted. But there is the plaque that adorns the arch to this day. It says:
During the Plague of 1544 George Wishart Preached from the Parapet of this Port
The People standing within the Gate and the Plague stricken lying without in Booths
"He sent his hand and healed them"
Psalm CVII
Restored 1877
Did God use George Wishart to heal the plagued people of Dundee? We may never know. But the arch remains — the last remnant of ancient Dundee.
So as you wander through the modern city, shopping in places like the Wellgate, don't forget the Seagate and its strange little arch, old and perhaps overlooked. Look on it and remember that for hundreds, even thousands of years, people have called Dundee home.
Article written by Sandy Kennedy