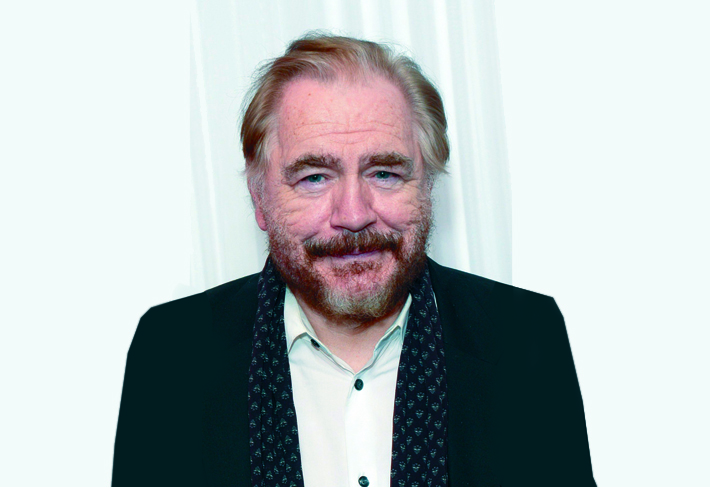 "I'm so proud of this city, I'm so proud of the spirit of this city"
City Life had the privilege of following and interviewing fellow Dundonian and Hollywood actor Brian Cox 'on the hoof' before and after the referendum. We walked the streets of Stobswell, Lochee, Charleston and the Toon Centre. We also watched him at various public meetings and observed many of his media interviews. We even supplied Brian with some juicy 'half time' oranges when he was knocking doors in Charleston.
He talked to the working people on the streets, the homeless, the disaffected, local businesses and at all times he would calmly and happily stop to make sure that eager someone got their precious photo taken with him. City Life ended up becoming a surrogate photographer for people caught off guard without a camera. Brian happily took his time at these moments and we happily snapped away and emailed on that historic photo for their family album. Was Brian Cox really just wandering through Stobbie? Yes he was and here is the photo to prove it, they could say!
Whilst observing Brian at a polite distance it was clear that he had a realistic and calm perspective on the whole democratic experience unfolding, despite all the noise and media hype surrounding him. Surprisingly; while observing the BBC, Channel 4 and many other media companies hustle for a sound bite; the key phrases that they never seemed to listen to, or want to broadcast, were the very things that were most important and genuinely heartfelt by this passionate Dundonian.
"For the hopeless this is hope"
"This is about social democracy"
"Independence is self-worth"
"Whatever happens something has shifted"
"The old political system is broken"
"Human beings need vision… what is my life about?"
"Nothing can be more right in my life than our journey towards independence"
During the one-on-one time we had with Brian, we talked about his fifty years plus career in theatre and film, and the spirit and strength of character of the Dundonian underdog. When asked about his career toughness and where he gets his hunger and fire from, Brian said;
"[You] can't be afraid of the unknown, carry on regardless. Not being afraid of making a fool of yourself has got me through school and life, having the courage to reinvent yourself and go on different paths. Challenge yourself and never take anything for granted, never!"
While on the unique individuality of the hardworking and successful Dundee character;
"We live in a city that people have tried to write off time and time again, it's the survival mechanism, we are great survivors, we have learned how to survive, it's that thing that makes us who we are… spirit of survival!"
The post referendum atmosphere was eerie when we met again at the City Quay. Something was in the air, an emotional fog hung over Dundee, it felt like something cataclysmic had just happened. Brian was right, something had shifted!
We were pleasantly surprised to find he was still as calm, insightful and statesman like as he had been before the referendum. Under discussion: food banks, homelessness and poverty in an energy resources rich country like Scotland; Irish ancestry; asylums; and family. He also talked respectfully about the natural inclination of many Scots to be canny and quiet and how many of those same quiet Scots voted 'No'. Brian's words at the time…
"I wasn't gutted, I just thought… we go on."
He also made everyone laugh at his mother's formal handwritten description of him, in a letter given to his future mother-in-law many years ago…
"Brian is a good laddie, he's got a great heart, he means well but he's no very bright!"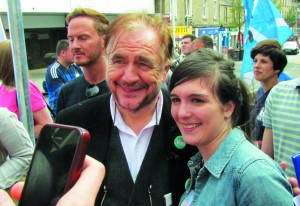 The main thing though that Brian talked about is how the natural cultural inclination and mind set of many fellow Scots to say no to everything; "nah ye cannae dae that", "ach no", "ehm no sure"; has now changed. He talked about a new 'YES' culture and positivism emerging from this enlightening democratic process…
"It's to our detriment that we said no. No is easier to say than yes. No means no commitment. It's a mindset that has to shift"
"Building the V&A museum in Dundee was about people saying YES. Yes we can do it. Yes attitude has to continue as yes is the best word. It's a positivism which has been lacking in our culture"
"We have been battered for far too long and now we have to say we are not taking any more, we are going forward! That's why the YES movement is going forward. If you don't commit, then nothing will happen."
Observing Brian's pride and genuine heartfelt love for his fellow Dundonians over this historic time in Dundee's history has made us at City Life feel all the more proud to be a part of this great city. We are so lucky to have someone like Brian representing us on the world stage and we know that he also feels lucky that we Dundonians also represent him on the world stage.
So next time you walk the streets of Dundee, walk tall knowing that Dundee is no longer a 'cannae dae that culture' . Walk tall knowing that we are now, as Brian confidently proclaims, a 'YES can do' culture. Not only that, we are once again a driving democratic voice of Scotland. Whatever your politics, that is a positive thing.
So wherever Brian is in the world, we know he will be walking taller because of us and we know he will be walking taller for us.
'Spirit of Survival'; a movie coming to our screens soon? Hmm… I wonder…