"We're no better than ither fowk, son, but we're jist as guid as onybody"
"Thaim wi a guid Scots tongue in their heid, are fit tae gang ower the warld."
Here at City Life we are always looking for inspirational stories to share with our fellow Dundonians. We were very fortunate to get the chance to interview one of those Scottish inspirations in the form of Newport-on-Tay based; Ayrshire born; award winning writer, broadcaster and guardian of all things Scots; Billy Kay.
Since 1979 he has contributed to a variety of roles in BBC broadcasting. He created the acclaimed Odyssey series of documentaries recording the oral history of the Scottish working class. His play, "They Fairly Mak Ye Work" broke box office records at Dundee Rep in its two runs at the theatre in 1986. His freelance career has continued with various projects and international awards having now been gathered by this Scots genius. He has also just finished a journey through the magical world of Scottish literature over the last 700 years, in the BBC Radio Scotland series 'A History of Scottish Literature.'
Billy kindly took time out to talk to City Life even though the Kays have been busy enjoying the family arrival of wee baby granddaughter, Fiona.
Billy highlights, in his recent book 'The Scottish World', that he has now interviewed and learned from approaching 2,500 people from various walks of life and cultures. So it was good to turn the interview table on Billy and try to find out a wee bit about what inspires and motivates him and see if he can share some secrets of success with his now fellow Dundonians.
CLD – What still drives you after all these years to passionately communicate and educate your fellow Scots on their heritage, literature and language?
BK – First of all I passionately believe in it. I think we have made an immense contribution to the world – something that should be a source of pride to all of our people. But if our people are not educated in their culture, they can believe all the negative propaganda we've experienced since the Union – the Scottish cringe is a product of that. If we knew who we are, the cringe would be consigned to history and we could get on with being a normal country again – I thought we were about to begin that process on September 19th 2014, but it's going to take a bittie longer.
CLD – What people in your life past or present have inspired you and what are the most important lessons you have learned from them?
BK – Burns, Bruce, Wallace, Countess Isabella of Buchan, Robert Fergusson, Charles Baudelaire, William Faulkner, Lewis Grassic Gibbon, the music of Dundee's Michael Marra and Jim Reid, R B Cunninghame Graham aka Don Roberto and many more kenspeckle figures from literature and history, but my cultural identity came from my huge extended family in Galston in the 1950s – we were the last of the pre-television generations so our language and culture was Ayrshire Scots with a dash of American from "the pictures". A lot of my family were good singers so Burns' songs were part of our popular culture….Elvis and Rabbie, the Beatles and Rabbie, the Four Tops and Rabbie – all had equal status at family get thegithers! My parents gave me a strong Scottish and working class identity – "we're no better than ither fowk, son, but we're jist as guid as onybody" was their view of the world.
CLD – You have travelled the world interviewing people from many different cultures, which interview and/or culture have had the most profound/memorable effect on you?
BK – The only time I was ever really nervous at an interview was one with my boyhood idol Denis Law! Being inside Robert Louis Stevenson's hut in Hawaii was really cool! But being introduced to the congregation at Mary Slessor's Duketown Parish Church in the tropical heat of Calabar was unforgettable because of the warmth and love I experienced due to what Mary had achieved as the Mother of All the Peoples, but also because of the reverence with which they held the Scots who had preached in the kirk and taught them in the schools. It was a moving visceral experience, and what they were responding to was my Scots voice… proving the auld Scots saw "Thaim wi a guid Scots tongue in their heid, are fit tae gang ower the warld."
CLD – Dundee has more Scots dialect than most towns and cities in Scotland, why do you think that is and why do you think we still hold on to it so strongly to this day?
BK – Dundee is a unique city with a very strong local and national identity, so retaining the distinctive Dundee dialect of Scots is an expression of that. It's also one of the dialects of Scots with a thriving modern artistic tradition – from the Scots songs of Mary Brooksbank Jim Reid, Michael Marra, St Andrew and Sheena Wellington through to poetry by Matthew Fitt, WN Herbert, Gary Robertson, Mark Thomson and many more. The urban identity is memorably and hilariously expressed in the St Andrew song from the Word on the Pavey album which goes something like, "Ye've seen thaim in Farfar, ye've seen them in Blair/Pyeuchs wi a full heid o hair, pyeuchs wi a full heid of hair!"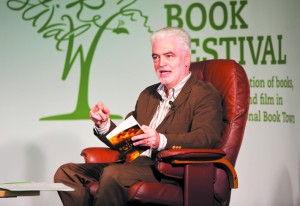 CLD – Some of our City Life readers may not have had the chance to delve into the wonders of Scottish literature yet, where would you advise them to start?
BK – Sunset Song for an elegy to a vanished way of life, Janice Galloway's novels and short stories, Alan Bissett's Boy Racers for its energy, James Roberston's great range of modern novels, and Kathleen Jamie's poetry.
CLD – Dundee became the YES capital of Scotland in the recent referendum, what's your thoughts on that and why do you think the Dundee people's Scots voice has been so democratically loud?
BK – In my play at the Rep in the 1980s, The Fairly Mak Ye Work there was a quote from a speech by the early 20th century politician Neddy Scrimgeour in which he said "Wallace struck the first blow for Freedom in Dundee". Like Wallace back then, Dundee has again led the way and struck a major blow for Scottish independence which will come – it is simply a dream deferred.
CLD – Finally Billy, we have to ask you what you think of our wee City Life magazine so far considering we only launched in August 2014?
BK – Braw, and a vibrant addition to life in a city with a great future ahead of it.
You can still catch up on 'A History of Scottish Literature' via the BBCiPlayer/radioscotland.
For more information on Billy Kay, visit www.billykay.co.uk.
To read our City Life review of 'The Scottish World' click here.