We are officially into the Dundee festive season. City Square was recently packed with happy folk already in the Christmas spirit, as Wave 102 brilliantly entertained the crowd and created a great family festival atmosphere, in the build up to the Dundee Christmas lights being switched on. A colourful fireworks display lit up the Overgate Shopping Centre into a beautiful backdrop to this citizens' carnival. There were even street performers galore, appearing down a colourfully decorated Reform Street. Who were those characters? They were hilarious! For a moment it felt like the Edinburgh Fringe Festival had come to Dundee with Christmas bells on!
There were also plenty of hot food stalls to keep the cold and hunger at bay. City Life spoke to some of the happy revellers and we were surprised to hear that for many it was their first experience. One girl we spoke to said she had never been before but was definitely coming back next year, as it was such a colourful and friendly family atmosphere. Congratulations to Dundee City Council and all the staff behind the scenes, for organising a great night. We are so lucky to have such an accessible public event open to all, right on our doorstep here in Dundee.
Christmas Shopping 'Doon the Toon'
Make sure your city centre is the first stopping point on your Christmas list…
Yes it's that time of year again, finally! So get those Christmas parties booked, stock up on your favourite foods and beverages, get that Christmas outfit sorted, pamper yourself with some hair and beauty treatment, and start buying all those Christmas presents.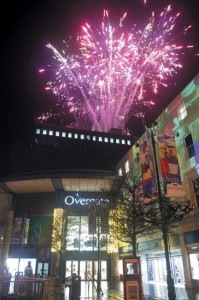 Dundee has an abundance of shops, boutiques, salons, markets and more to choose from. From the Perth Road to the Westport, or the Nethergate to the City Quay, everything you need is on your doorstep. The variety of small business outlets is fantastic. Whether you need some beauty treatment in one of the many salons or you need some chill out time in one of the many bars and eateries, then Dundee's friendly traders are happily awaiting your custom.
In an age where buying things on the internet has become so popular, there is still no better way to do your shopping than meeting up with friends and family, grabbing an early brunch, shopping 'til you drop, and then chilling out in a wee boutique eatery and bar. Not only that, our local traders are nowadays just as competitive as the online deals, so let your local traders take care of your Christmas shopping and have fun at the same time. It's a win-win all round for everybody!
Christmas Entertainment 'Out and About'
Where do we start when we think of festive entertainment in Dundee, as there are so many entertainment venues in and around the city. There are plenty of theatres, pubs, clubs, music venues and restaurants to choose from. If you fancy something different you can try the Gardyne Theatre nestled in the Dundee and Angus College district at Gardyne Road. This venue is becoming one of the hotspot theatre venues in Dundee, so check out their Christmas schedule as all tickets are selling fast. Also look out for their 2015 programme which is coming soon.
From the Gardyne Theatre you could make your way down to 'Little India' in the Ferry. Indian cuisine is definitely at its best in the Ferry with the likes of Bombay Joe's, GOA, Gullistan and the recently opened Spice all offering great food, great service and luxurious surroundings; all at affordable prices, for that special festive night out.
If you fancy something a bit more adventurous with the family this year, then a wee trip through to the lovely seaside town of Arbroath offers a great venue in the Webster Theatre. They will be running a 'Jack and the Beanstalk' pantomime show for all the family from 3rd December right through until 24th December. Great value with tickets starting from £7.00.
Whatever you do this festive period, make sure you get out and about Dundee and explore what your local traders and businesses have to offer you. Remember if you look after your local businesses and traders then they will be here to happily look after you, year after year.
So from all of us here at City Life, enjoy your build up to Christmas and have a great Christmas when it comes, jingle bells!