The recent democratic engagement and political involvement of people from all walks of life in the recent referendum got us thinking… Are there roots in our Dundee history to this modern people activism? We decided to get one of Dundee's foremost local historians to investigate.
The last few months has witnessed what can only be described as a Scottish 'Awakening', with thousands engaging, many for the first time, with political and community activism. While YES CITY has played a major part in this exciting process of political and civic engagement, in our case, it would be more apt to describe it as a 'Great Re-awakening', because Dundee has played a major role in most, if not all, of those radical movements that have looked towards the re-shaping of Scotland along more socially just lines.
In the eighteenth century, Dundee was known as 'The Radical Toon', due to the central role played by Dundonians in the fight for popular suffrage, which led to sentences of fourteen years transportation to Botany Bay being handed out to two local reformers, Thomas Fyshe Palmer and George Mealmaker. Neither of these 'Scottish martyrs' ever returned home: Fyshe Palmer, an English Unitarian minister, was buried by his faithful servant on a tropical beach, following his death, whilst attempting to return to Scotland in a home-made boat: Mealmaker died in Australia, in mysterious, and somewhat suspicious, circumstances. Mealmaker was an ordinary weaver, born in the Seagate, who came to prominence as the leader of the locally formed Friends of Liberty. An elder of the Reformed Church in the town, he was also a gifted writer, swordsman and pugilist, skills that he passed on to local reformers in order that they could protect themselves from loyalist mob violence. Mealmaker also became the first secretary and organiser of the United Scotsmen, a secret reform society made up of artisan, or self-employed, tradesmen and ordinary workers. He became a marked man, and paid for his commitment to the cause of universal suffrage with his freedom and, ultimately, with his life.
In the 1790s, government repression stilled the democratic movement in Dundee, but the demand for universal suffrage was taken up by a new generation of activists. In 1819, George Kinloch, 'the radical laird', made a rousing call for universal suffrage and annual parliaments at a mass meeting on Magdelene Green attended by over ten-thousand Dundonians (amounting to nearly 1/3 of the town's population at the time). Kinloch, like Mealmaker before him, became a marked man for his act of democratic impertinence, and was forced to flee to France, when he was outlawed in absentia for 'the advocacy of popular rights'. Kinloch would, though, unlike Mealmaker and Fyshe Palmer, return home in triumph, when, in his own words-
"On the 24th December 1819 I was proclaimed at the Cross of Edinburgh a rebel and an outlaw … On the same day of December 1832 I was, by the same Sheriff L'Amy, proclaimed the chosen representative of the people of Dundee."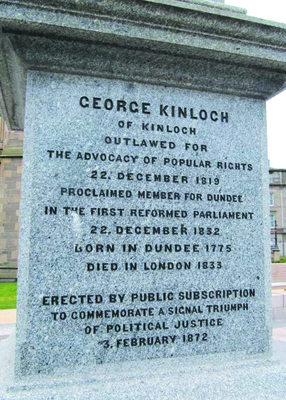 The 1830s and 1840s witnessed a growing clamour for an extension of the limited franchise granted to the middle classes in 1832, and Dundee's democratic movement was again to the fore. It was during this time that Dundee became known as the 'Republic of Letters' on account of the large numbers of highly literate artisan weavers, many self-taught, who took up the pen in order to write often very powerful poems of protest against their increasingly degraded position. Every Saturday evening, Dundee's leading weaver poets would meet in the dingy workshop of James Gow, whose 'four posts of misery', was located in the dark, dirty and dismal environs of Long Wynd, right in the heart of the town. This 'oary' literary circle included Willam Thom, the 'Bard of Inverurie', who would achieve national fame for his poetry, before dying at a tragically young age. The rise of the cult of McGonagall has, though, completely eclipsed the accomplishments of Dundee's 'Republic of Letters', which is now all but forgotten in the popular mind.
When we contemplate how and why Dundee achieved its status as the 'YES CITY', we should never forget that this is but the latest manifestation of the radical thread that connects today's political, community and civic activists with those that went before. We, truly do, stand on the shoulders of giants.
To be continued in the next issue of City Life – Jan/Feb 2015.
Article written by Dr. Anthony Cox, lecturer in history at the Centre of Continuing Education, University of Dundee.