It's amazing what you come across in Dundee's city centre when you wander 'doon the toon' for some quiet Sunday afternoon café culture. One of the City Life team recently done just that and a feast of culture was in store…


Walking down King Street's wee commercial precinct admiring the historic mill buildings is inspirational enough but knowing that this whole area will be further improved by the renovation of the Lower Dens Works into a stunning new hotel complex is added satisfaction that this area is going places fast! This exciting project and others in the area will link Stobswell, City Quay and City Centre into a recognisable trendy precinct of the East Port. Maybe this will be the affordable bohemian quarter of Dundee's property market in coming years?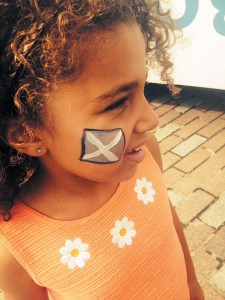 Detouring down the old steps at the side of the Lower Dens Works takes you back in time to when our grandmothers probably hurled themselves down those steps escaping a hard shift at the mills. Via the Wishart Arch it's then an easy walk through the Cowgate shopping precinct and onto the Murraygate. A pipers lament could be heard in the distance but this was no ordinary piper this was a wee laddie about eight or nine years old playing his heart out to the Dundee public.
Then on to the City Square where an array of culture awaited. There was a multicultural buzz of people and families around huge referendum stalls and buses that seem to be on every corner these days. Information was being handed out and conversation was flowing about Scotland's future.
Kids of all ages were also getting their faces painted. Macy Scotland, the daughter of ex Dundee United footballer Jason Scotland from Trinidad and Tobago, was one of them. A wee Slovak boy was trying to get a conversation out of the two Pandas that were wandering around! Also totally unexpectedly a flamboyant and colourful Sikh wedding party paraded down Reform Street and into the Caird Hall, drums beating and families dancing. The whole of the City Square stopped to admire this wonderfully colourful sight.
What a multi-cultural start to a Sunday city centre wander and a coffee hadn't even been bought yet. Henry's Café awaited in case anything else was missed!