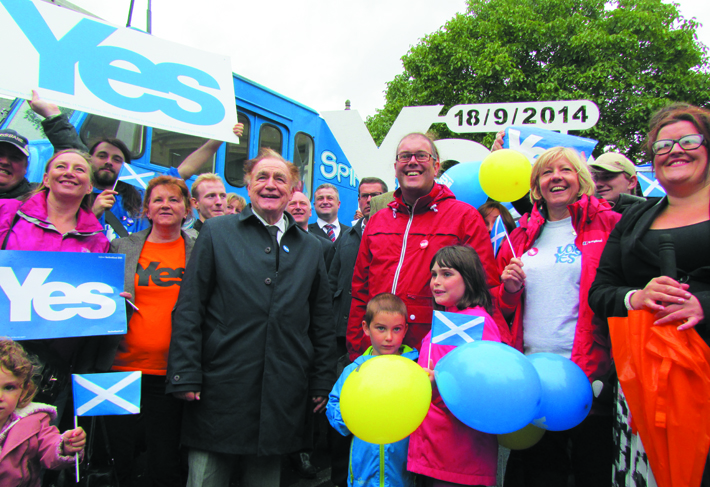 Brian Cox, proud Dundonian and Hollywood actor, was in town recently and brought his theatrical magic to one of the most inspirational stories in the nationwide referendum story so far. Readers who were lucky enough to get our first ever 'City Life' edition last month will remember the story we shared with you about local Dundee man Chris Law restoring an old green goddess fire engine into a 'Blue Goddess' independence campaign vehicle to travel all around Scotland accompanied by a film crew.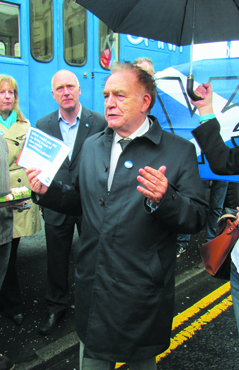 Brian was asked by Chris to become the first person to be interviewed in the Blue Goddess and duly agreed. He also agreed to launch Chris and the 'Spirit of Independence' vehicle on this inspirational nationwide journey from St. Andrews Church in the Cowgate.
Brian happily talked with members of the public at the colourful launch and was happy to sign autographs and share some stories. In enlightening mood he also shared some thoughts with his fellow Dundonians…
Brian told onlookers that a Yes vote offers Scotland the chance to use its 'vast wealth' in a way that 'works for the many' and not just the few.
He said: "It is increasingly clear that Westminster isn't working for the people of Scotland. Earlier this year it was revealed by the Financial Times that Scotland is one of the top 20 wealthiest nations on the planet. We are wealthier per head than France, the UK and even Japan.
"And yet, for far too many of us, it doesn't feel as though we live in one of the very wealthiest nations on the planet. That's because the majority of people don't feel the full benefit of Scotland's vast wealth.

"One figure that lays bare the failing of the Westminster system is the fact that 70 per cent of people own just 25 per cent of the wealth. It is clear that Westminster only works for the few, whereas with a Yes we can make sure Scotland's vast wealth works for the many. "With a Yes we can ensure that Scotland's wealth, resources and talent are put to work for the benefit of the people who live here. For the first time ever we will have economic and social policy designed in Scotland and for Scotland and that means we can deliver much more for people across our country.
"This is one of the biggest gains for people from a Yes vote. We can make Scotland's wealth work better for the people who live here and that is too good an opportunity to miss, especially for those thousands of Scots who are traditional Labour voters.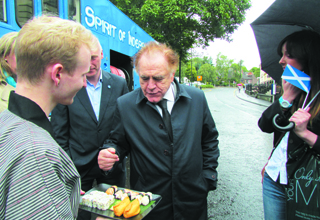 "That is why I would urge all those who remain loyal to Labour in Scotland to look beyond politics as usual and to seize this historic moment for our nation.
"With a Yes, we can protect those elements of our society that we value most, like our NHS and a fair and comprehensive welfare state. In particular, we can make sure that the financial fall out from Westminster's privatisation agenda can't damage Scotland's precious health service.
"For those of us who hold firm to Labour values and believe in a society that has at its very heart a sense of collective responsibility, a Yes is now the only real choice."
Listen to Brian like you have never heard him before as Duggy Dug the animated Scottish cartoon character.
To view Brian's interview on the Blue Goddess go to www.spiritofindependence.org