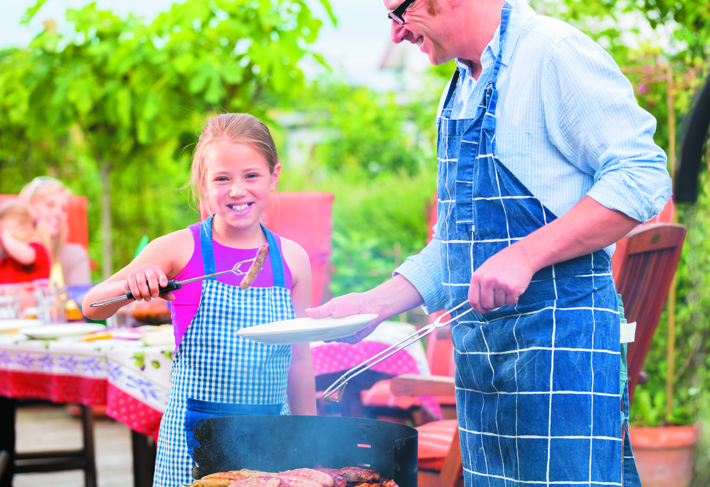 When the sun is shining there is no better way to indulge your taste-buds than by firing up the barbecue. With our healthy recipe ideas you can now enjoy a flame-grilled meaty feast without piling on the pounds.
Now that the cold, hard winter is finally behind us; what better way to enjoy the long, warm evenings than by firing up the barbecue and cooking some tasty food in the great outdoors. The smell of flame-grilled burgers and the sound of sizzling sausages are now synonymous with the British summertime. However, alfresco cooking doesn't necessarily mean loading up your grill with fatty and unhealthy foods.
Use lean cuts of meat and try cooking fish such as salmon or sardines which are high in Omega 3 oils. Anything grilled has a unique, smoky flavour and fruit and vegetables are no exception – plus you don't have to worry about under-cooking them as you do with some meat.
Make use of marinades. Not only will they add flavour but they will stop meat and fish from drying out without adding fat or oil. Popular ingredients include wines, vinegars, citrus juices, soy sauce, natural yogurt, honey, garlic, herbs and spices. Try to marinate for at least 1-2 hours.
Finally try grilling smaller portions of meat. Research has shown that long exposure to charcoal smoke can lead to the production of potentially cancer-causing compounds in fatty food. Also frequent flipping of BBQ food has been shown to reduce the formation of these compounds.
Home Made Burgers
You will need:
540g/1lb 3oz minced beef
1 chopped onion
25g/1oz chopped coriander
1tbsp Dijon mustard
1tbsp olive oil
a little salt and black pepper
Method
Combine all the ingredients in a bowl and stir until well mixed.
Shape into 4 patties, then grill on the BBQ, turning occasionally until evenly cooked.
Serve with a sesame seed bun, a slice of cheese and fresh salad.
Tandoori Chicken Drumsticks
You will need:
8 skinned chicken drumsticks
1 teaspoon salt
1 lemon, juiced
2 pots plain natural yogurt
½ onion, coarsely chopped
1 garlic clove, chopped
1 small piece of ginger, chopped
2 hot green chilies, sliced
2 teaspoons garam masala
1 teaspoon ground turmeric
2 tablespoons tandoori powder or 1 jar of tandoori paste
Method
Make cuts into each drumstick, to the bone. Spread them out on a plate, sprinkle salt on each side and run lemon juice into the slits.
Put the yogurt, onion, garlic, ginger, chilies, garam masala, turmeric, and tandoori powder or paste into a bowl and blend thoroughly until smooth.
Strain the mixture into a bowl using a sieve and cover each drumstick, rubbing it into the slits.
Cover and refrigerate for 2-8 hours before grilling on the BBQ.